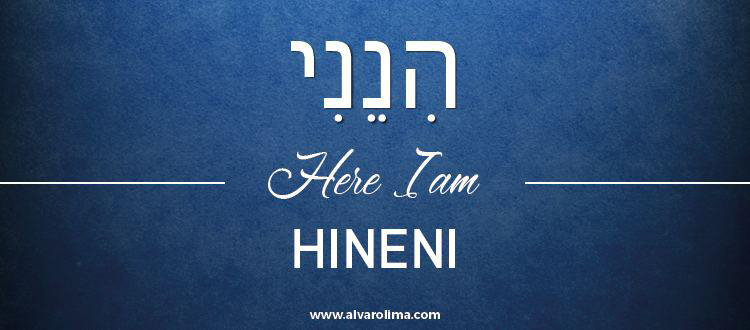 Now it came to pass after these things that God tested Abraham, and said to him, "Abraham!" And he said, "Here I am."(Genesis 22:1)
There is a powerful word in Hebrew that sums up the phrase "Here I am". The word is Hineni. It is a way of expressing total readiness to give oneself – it's an offer of total availability. In other words, "let your will be done." This is a disposition that very few have today, but God found this willingness and readiness in Abraham.
Abraham did not know what God wanted. He was just available; he put his will and desires aside in order to do what God wanted. Little did he know a test was coming.
Then He said, "Take now your son, your only son Isaac, whom you love, and go to the land of Moriah, and offer him there as a burnt offering on one of the mountains of which I shall tell you." (Genesis 22:2)
This is the reason why God tells us in no uncertain terms to look to Abraham. (Isaiah 51:2) His desire to PLEASE God outweighed his desire to have a child. He put the BLESSER above the blessing.
Indeed, many are willing to sacrifice, but few are those who are willing to sacrifice what God wants from them. They even utter the words, "Here I am", but they don't ask God what He wants from them, instead they ask what He can give to them.
The truth is that when we say "Here I am", we have to be ready for anything. That's right! We have to be ready to go wherever God sends us and be ready to do His will, even if it contradicts our own will. The problem is that with time, many lose that heart that yearned to please God. They let the desires of their flesh get in the way of God's plan for their lives. In other words, their ego, pride, way of being, etc. They even allow iniquitous thoughts to prevent the will of God from being done inside of them and through them.
When we delve thoroughly through the story of Abraham, we see that he never questioned God; he saw God in everything. Even when God asked him to sacrifice Isaac, he simply obeyed although he was not promised anything. If we truly want to see God's greatness in our lives, just like Abraham did, we have to be willing to let go of our very own "Isaac." That means we have to be ready to forgive, break our pride, abandon our sins, let go of the things we hold on to dearly and be ready to say "yes" to God no matter the circumstance.
Think about it… How can we receive the exceedingly great reward, which is the Holy Spirit, if we don't lay down our lives first and surrender EVERYTHING to Him? How can God work inside of us and give us His blessings if we still insist on doing things our own way? It's impossible! Many times the "Here I am" of many is limited to their will and that's why their lives are often stuck.
For this reason, we have to ask ourselves whether we've been saying "Here I am" wholeheartedly or reluctantly?
When God sees on the Altar what He saw on Mount Moriah, He has no choice but to manifest Himself greatly in our lives. Remember, we say "Hineni" to God not just through words, but by trusting Him, obeying His voice and doing His will. This was the faith of Abraham. Will God find such great faith in you?
About Post Author